Multiform Tubes Ltd exists in order to supply the ideal products to its clients. In many cases, this includes rolled steel tube rings. We use our purpose-built facility in the West Midlands to alter tubing in various ways. Thanks to some of the best equipment and our skilful team, we can produce great products.
We know tubing better than anyone else
Due to our years of experience, we have become one of the UK's foremost experts in tube manipulation. As professionals, we provide an array of services. One of them happens to be tube ring rolling. It is a manipulation technique where we bend normal tubes into circular shapes. In addition to the rings, we can use it to fabricate all sorts of versatile components, including spirals.
You can perform ring rolling in several ways. There are cold and hot forming options as well as machine and hand manipulation. Either way the goal is to provide continuous curves. Expect this with even the strongest tubes. They won't flatten either.
Aside from the steel rings, we can also work with a variety of materials. Examples include brass, aluminium, and copper. As well as the materials, we can work with tubing varying in size. We also have experience with different shapes, including oval, circular, and square.
Our equipment is essential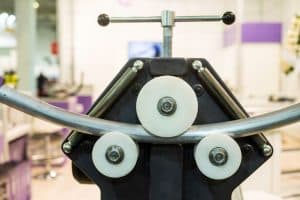 The equipment we use for services like creating rolled steel tube rings is truly revolutionary. We could not do without it. It allows us to manipulate everything with extreme accuracy. As a result we can produce far better results for each client.
We are proud of our talents with all of our tube services and we want nothing but the best for everyone. Something else we do is stay on hand with guidance and advice for every aspect of our company. If you have any enquiries, all you need to do is contact us.
When you require steel tube rings or regular tubes, you merely need to seek us out. Our team works with the clients in order to understand their requirements. We shall see to it that you get exactly what it is you request.
Ask us about rolled steel tube rings
We have built ourselves to be a top supplier of tube rings and other products. Having spent so many years in the industry, we have an outstanding reputation. The clients we work with already are aware of this. As such, many work with us for years or come back when they need something else.
Anyone who would like to work with us can get in touch with Multiform Tubes Ltd. You can reach us easily by phone or email. We are happy to provide advice about rolled steel tube rings or anything else we can create for you.