Adapting tubing and pipes is a careful process to ensure they remain strong and fit for purpose. We have the skills and equipment to work with a wide array of products. This includes various materials, lengths, thicknesses, diameters, and more. While we offer lots of different individual services, we excel at steel pipe swaging. If you need a swage fitting or decorative finish, we can provide it for you.
Why swaging?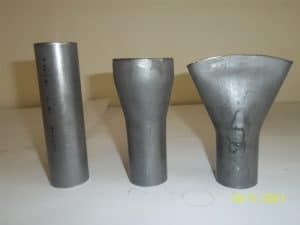 There is a wide array of different options to adapt the ends of tubes and pipes. Swaging is a popular one because it is highly efficient and does not result in a loss of material. It can also retain the grain and produce an attractive finish.
A great thing you can do with swaging is change the shape of the inner diameter without affecting the outer diameter. For example you can have circular tubing or pipe and swage it so the ID is square or even hexagonal. This means there are even more options and a better chance of catering for your needs.
There are two options if you do want to swage a section. The first is to use a dedicated tapered die that is the right size to fit into the end and then widen it. The second is to choose a hydraulic die with segments. This also fits in but the segments open to hammer the inner walls to reduce it. Because there are these two options, swaging can fit a wide array of needs.
Working with steel
Steel pipe swaging is a complex process. However we are experts at it. That means we can offer the perfect results, regardless of your requirements.
The big issue if you want to swage steel is how hard it is. This means it is not as easy to work with as softer metals like copper. It can get even trickier with the hardest grades of steel and stainless ones that harden when they are adapted. Luckily we know how the materials behave and can provide the perfect service.
What are you using the tube or pipe for?
In terms of the swaging, we can provide a huge array of finishes. For example we can open the end of the tube or pipe so it can slot on to a wide array of different fixtures or components. If you need a tight fitting we can ensure it is accurate to create a precise joint. We can also adapt the shape if necessary. This can provide a decorative finish to suit various needs.
The great thing about tubing and pipes is they are versatile and have a huge number of different uses. In fact many customers come to us with a bespoke project in mind. We can use all of our prior experience to provide the perfect solution. We can even provide welded fabrication if necessary.
Speak to us about steel pipe swaging
If you have a project in mind we would be happy to take it on. Our skills and experience will be a real benefit and add value for you. The products we offer will be high quality so they will last. We will also arrange delivery or collection to suit your needs.
If you have any questions about steel pipe swaging or would like more info about us, get in touch.