At Multiform we specialise in tube manipulation. Our name has come to be synonymous with high quality as well as affordability. We work hard to supply our customers with the tubes they are looking for by completing a wide range of work. This includes things like bending, drilling, and tube tapering services. As a result, people can call on us for bespoke tubing for various needs.
What is tube tapering?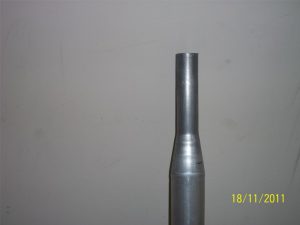 This is the process of widening or reducing the diameter of a tube gradually. It will alter its shape for a particular length. Most tapering is a cold process. It involves friction and pressure with the help of tools and extruders. The work will form a bottleneck and after this, the tube diameter remains unchanged right up to the tube edge.
With tube tapering you can obtain constant and cylindrical diameters. Another thing to keep in mind is that this can be helpful for tube flanging and flaring. With these, the processes, bulges, and collars of the tubes can be developed.
In most cases tapering takes place involving a two-die rotary hammering operation. The original tube with the larger diameter is fed into a swaging machine and the dies. These dies are shaped to the design of the tapered tube. When the tube goes in, the tooling moves around the work piece. This results in approximately 3,000 blows a minute, slowly hammering the tube to reduce the diameter.
Tapering different metals
You can taper tube made with many metals, such as titanium, stainless steel, and carbon steels. As is the same with all rotary swaging work, the grain structure will remain intact.
With the reduction of the tube, the material will flow along the section that has been reduced. This results in a bigger tube length in addition to a degree of wall thickening.
Tapering is an operation that is helpful when you want to insert one tube into another that has the same diameter. You can taper the end so it can slot easily into the other tubing.
Whatever you need, we can help
This is a process that is helpful for producing tubes for all manner of uses. From removable structures to mechanical couplings, there are many options. A number of sectors use tapering services, including heating, automotive, furniture, building, naval and boating along with many more.
Call on Multiform for tube tapering services
Our team uses high quality machinery for all our work. We combine this with our experience in the industry. What this means is that we are able to offer a wide variety of services. We complete these to excellent standards every time so our clients get the best products.
We can provide our customers with tubes that have specific diameters, wall thicknesses, and those made from different metals. As a result, people can receive a product that matches the needs of their job.
Our team are experts at tube tapering services in addition to our other tubing work. As you can guess from our name, we do predominantly work with tubes. But we also offer bespoke fabrication along with welding when our customers need it. This makes us a one-stop shop where you can enjoy quality along with a personalised service.
Contact Multiform Tubes today to discuss your tube needs.