We are a business with many years of experience in tube reduction. The purpose of this service is to aid us in creating tubing that matches the client's specifications. Our team helps people from many industries, using our extensive knowledge so we can provide the right tubes.
Within the construction industry, several factors are vital with tubing. This includes durability, resilience, and strength. Since this is the case, companies use stainless steel, aluminium, and copper tube often during projects. Each of these metals comes with different strength values and properties. As a result, they can meet different goals. What we are going to do here is look closer at these substances. We will see where people use them and why.
Stainless steel
This remains one of the most resilient and robust materials you can use. The construction industry has taken advantage of it for centuries. The tubing is great for accessibility products as well as cosmetic features. Examples include handrails and ducts.
Copper
Next, we will discuss copper. People mainly employ this tubing when fashioning pipe networks in buildings. You might need it for heating, HVAC arrangements, or water systems. Whatever the case, copper's attributes make it ideal for producing systems that last.
Aluminium
This material has a conductive nature and possesses great resistances to corrosion and chemicals. As a result you can use aluminium tubing in a wide variety of construction applications. Since it can endure the elements, it is excellent for outside use.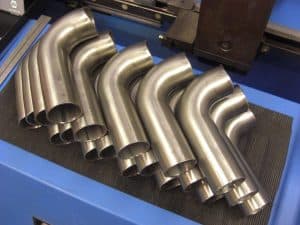 At Multiform Tubes, we use our tube reduction skills to alter all sorts of tubing. This includes those made of the materials we spoke of above. When using this technique, we can adapt tubes in warm or hot conditions. This makes them perfect for heavy wall components.
We are happy to offer advice about tubing for various uses so clients choose the right materials. It is our goal to make sure that each client orders products they will be 100% happy with. If you would like to find out more, you are welcome to contact us.