People are constantly looking for the best tubes on the market. What some don't know is that many products require a bit of work before they are suitable for the application. To assist them, we use our top tier tube bending services. These are some of the most professional solutions you could ask for. They also provide results that you will really appreciate.
Forestry
One application that tubes are often used for is forestry machines. Machinery of this nature is primarily used for transporting logs and cutting trees. Their use is wide, particularly in northern Europe. In countries like Germany, Sweden, and Finland, the forests are especially large. People use forestry machines to cut and haul all of the wood. The timber can be for producing firewood, barrels, or furniture.
Many other businesses all over the world use the machinery to preserve the parks and woodlands. Examples here are nature reserves, oases, and state parks.
Numerous types of machines exist
There are all sorts of forestry machines out there. They include trailers for logs, brush and rock cutters, and mulchers. The advancements in the machinery have transformed lumber transportation. You can say the same for underbrush cleaning. A big part of the improvements in the equipment is the newer flexibility in terms of creating durable bent steel tubes. You can see these as well as other forms of tubing on various machines.
The wooded environments that people use forestry machines on are typically steeply sloped and rough. It is rare for forests to be flat. Most logs are heavy too. What this means is that log transportation is subject to massive stresses. As a result, the risk of breakdowns and damages increases.
Since this is the case, it is critical for you to figure out the tubes' cross-section that you are going to bend. As well as the diameter for round tubes, the steel's quality and thickness are also vital. It is the same for the cross-section of rectangular and square bars. This way you can get the best tube bending services.
Cold bending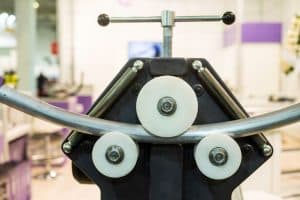 With forestry machines, the most important part of processing the tubes for them is cold bending. It is a technique that has been in use for several decades. Thanks to the use of a CNC tube bending machine, you can mass produce tubing for these mechanisms. Due to the perpetual repeatability of the bending operation, you can lower production costs and preserve the quality.
For particular forestry models, you can employ roll bending technology too. This is a variety of bending that is not created using a matrix. Instead, you pass the tube through three rollers. With this bending, the bend radii can have a multitude of sizes.
Come to us for tube bending services
At Multiform Tubes, we use our knowledge and skills to create all sorts of interesting products. This could be tubing for a huge array of machinery, tube systems, and also various other items.
As well as creating quality tubing with our tube bending services, we also attend to the queries brought to us by clients. If there is anything we can do for you, please get in touch.