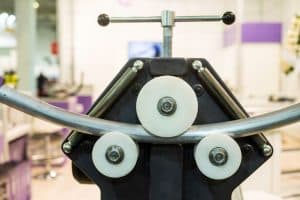 We have a great history of providing the highest quality tube bending services in the UK. The applications we can offer tubing for are vast. They include railings, shop fittings, and barriers to name a few. Regardless of your needs, our team always makes sure the tubes are the right ones for the job.
In tube production, you need to have a fully functioning, well-rounded set up. For this to happen, you need to know about the principal methods of tube bending. These would be roll, rotary draw, compassion, and freeform. You have to understand which machine technologies are the most appropriate for the applications you are working on. This shall aid you in optimising your procedures.
Compression bending
For economy and speed, fabricators often use this technique. You use it when the bend's roundness is not essential. Here, the goal is more about high outputs in order to obtain low prices. The furniture industry uses this bending method often.
As well as speed, another advantage is that you don't use oil within the part. What's more, you don't use a mandrel inside of your tube. Since you don't need oil, there is no need to clean the part afterwards. If you need tube bending services, please contact us.
Rotary draw bending
This is one of the most common bending methods. Usually, people use it to bend tubes three to four times the tube diameter's centreline radius. This method demands far more tooling than the previous one. You need three pieces of tooling. To begin with, you require a bend die. Secondly, you must have a clamp die. Lastly, you need a pressure die.
Roll bending
People use this procedure when they need a huge radius bend. It could be eight times the tube diameter. It is a method that is used constantly to roll angles and channels. The machinery is not expensive to tool either. You merely have to possess three rollers.
Freeform bending
The machinery here is one of the most unique. It permits users to produce bends of any radius. You can do so without any straights between your bends as well. You push the tube through a ceramic ring using tooling for the tube size. This is the only thing you need. When the tube moves through this ring, the computer oversees the motion of the ring to create the tube. It is as simple as that.
Take advantage of our tube bending services
At Multiform Tubes Ltd, we can provide clients with a large number of services. They are appropriate for all kinds of projects. In addition, our experience in the industry leads to results that are nothing short of fantastic.
So, when it comes to tube bending services, there is nobody better than us. If we can be of assistance to you, please get in touch.