Sometimes, in order to create the highest quality products, you need the best tubes. When in its initial form, your tubing may not match your requirements. Fortunately, we can use our tube bending services to change all of that. With us, you get precisely what it is you desire.
You can amplify fluid-flow attributes by bending tube. One way to do this is by fashioning small systems that have smooth directional changes. In comparison, the 90 or 45 degree elbows in piping set ups regularly increase turbulence.
Tougher demands
The demands on modern fluid arrangements are far tougher than the ones from ten years ago. Leaks we once called mere nuisances are now hazardous spills and harmful emissions. These issues are ones capable of shutting down plants. Contemporary processes are pushing temperature, flow, and pressure requirements to greater lengths. However, the elementary ideas of linking pipe have not done much to change. In reality, the strength of the majority of piping networks depends on fastening and sealing strategies. These are almost a century old.
Tubing offers a solution to stricter regulations as well as the increasing stresses on fluid arrangements. Pipe and tube both convey fluids in industrial environments. Yet, tubes come with several benefits that position them ahead of pipe. When you do a comparison between the two, tubing generally performs better and costs less. It is also easier to install and maintain.
Fittings
With the tube fittings, they are designed specifically to not leak. This is the case even when they are under tough operating conditions. The reason why is that they possess mechanical, metal-to-metal seals. In contrast, threaded pipe links usually need heavy gear for you to cut threads. It may require TFE tape or pipe dope to reduce leakage too. Moreover, tubing's better flexibility typically means that set ups that have fewer connections. This amounts to lower costs and fewer possible leak points.
Readily available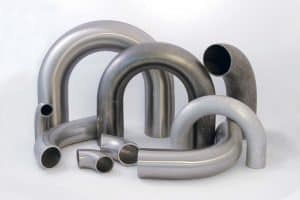 Another thing you should know about tubing is that it is readily available in diameters that reach 2″. There is also a myriad of materials and wall thicknesses to meet the most demanding requirements.
It is crucial to remember that you size pipe and tubing differently. For example, a 1″ pipe possesses a 1″ nominal bore. As for a tube, it will have a nominal outer diameter of 1″. When your tubes aren't in the right shape, you can use our tube bending services.
Faster installation
One other benefit of tubing is that you can usually install it quicker than you can with pipes. With tube, you deburr it and cut it to length. Afterwards, you tighten the fittings onto a nut. It is possible for you to gauge certain fitting connections so they are right prior to starting the system up.
Lower installation costs
Something else tube systems help you with is lowering the total cost to install them. In nearly every case, tube is not as expensive to deal with as pipe. It is true that tube fittings can come with a higher initial cost than pipe components that were configured similarly. However, tube systems save money in the long term because of the simpler assembly and disassembly. There is also a reduction in downtime.
Choose us for the best tube bending services
At Multiform Tubes, we provide every client with the most professional tube solutions in the country. We work with everyone closely. This allows us to understand their needs and ensure they leave with the correct goods.
Get in touch today if you would like to arrange tube bending services with us. We will exceed your expectations.